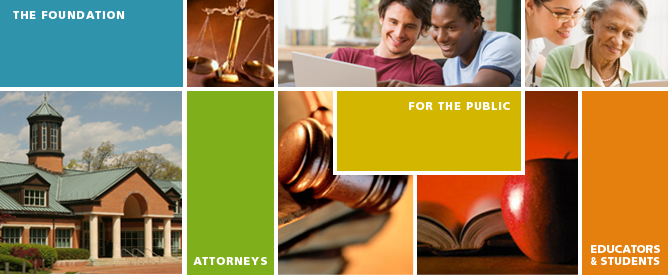 SERVING NEW JERSEY
The New Jersey State Bar Foundation (NJSBF) is your connection to understanding New Jersey law. We provide free events, publications and educational programs for students, educators and all New Jersey's citizens.
TODAY'S FEATURE
TOP NEWS:
4th ANNUAL LEGAL COMMUNITY ART SHOW RUNS THROUGH OCTOBER 29 -- MAJOR WINNERS ANNOUNCED
Everyone is welcome. The art show runs through October 29 in the Visitors Lounge of the New Jersey Law Center. Congratulations to the major winners: Stuart A. Hoberman, Esq.; Scott J. Basen, Esq., Sunil K. Garg, Esq.; and Maria Cristiano Anderson, Esq. Show information can be found here.
NEW IN 2015-2016! COURTROOM ARTIST STUDENT COMPETITION

Teachers, encourage your high school's art students to draw their mock trial team in action. Learn all about the contest rules and tips for successful sketches here. Find the Courtroom Artist Competition Entry Form here. Completed entry forms must be received by November 30. For more information, contact Cynthia Pellegrino at 732-937-7507 or cpellegrino@njsbf.org.

MAGNA CARTA'S 800th ANNIVERSARY
In 1215 at Runnymede, England, a milestone document was signed that served as inspiration for the American Constitution. Read all about it (our thanks to New Jersey Lawyer magazine) here.
MAGNA CARTA INTERACTIVE FREE PUBLIC PROGRAM OCTOBER 13, 7 P.M.

The New Jersey State Bar Foundation caps off its year-long commemoration of the 800th anniversary of the signing of the Magna Carta--which birthed such revered concepts as equality under the law, trial by jury, due process and habeas corpus--with a free interactive adult education program on Tuesday, October 13, 7-9 p.m., at the New Jersey Law Center. Everyone is invited to hear legal experts speak about the impact and legacy of what is considered the cornerstone of the American Constitution. Attendees will be encouraged not only to ask questions but offer their own perspectives on the law and the rights and responsibilities of the citizenry. For full information, click here. Refreshments will be served. Directed questions to Florence Nathan at 732-937-7518 or fnathan@njsbf.org. To register, click here.
FREE WILLS & ESTATE PLANNING SEMINAR WITH 1-TO-1 Q&A OPPORTUNITY OCT. 29, 1-4 P.M.
Learn how to protect your family's economic future. Find full information here. Register here.

REGISTER NOW FOR FALL 2015 TEASING AND BULLYING TRAININGS
The Foundation's popular, award-winning training has been updated to meet the growing needs of the education community in New Jersey. Find all open training dates as well as registration and general information here.
REGISTER NOW FOR FALL CONFLICT RESOLUTION, PEER MEDIATION AND CHARACTER EDUCATION TRAININGS
Find current training dates and registration information here.

NEW: A GUIDE FOR ATTORNEYS WHOSE DEVELOPMENTALLY DISABLED CLIENTS BECOME INVOLVED IN THE CRIMINAL JUSTICE SYSTEM
Provided by the Arc of NJ, here.

FOR GRADES 3-8: LAW FAIR AND LAW ADVENTURE MOCK TRIAL COMPETITIONS AND FREE SPRING PROGRAMS
For information about the Law Fair Competition and Programs for grades 3-6 and free teachers' workshop, click here. For the Law Adventure Competition and Programs for grades 7 and 8 and free teachers' workshop, click here. Register your students now to attend our free, interactive mock trial programs in May of 2016 at the New Jersey Law Center in New Brunswick.

HIGH SCHOOL MOCK TRIAL COMPETITION

Late at night almost a year after Super Storm Sandy, disaster again strikes a Jersey Shore family when four teenage intruders break into the Abrams' beach house, leaving one dead. Was it self-defense or did homeowner Jordan Abrams shoot Chris Pavano to death for other reasons?
Students in the State Bar Foundation's Vincent J. Apruzzese High School Mock Trial Competition will tackle this criminal case this season. To access the High School Mock Trial page, where you can download our 2015-2016 Mock Trial Workbook, click here. The workbook contains the Official Entry Form, case, rules, procedures and score sheets. To register for our free workshop for high school teacher- and lawyer-coaches, click here.
SUMMER 2015 ISSUE OF THE FORUM NEWSLETTER
Find the latest issue of the New Jersey State Bar Foundation's newsletter here.

NEW, UPDATED EDITION OF DISABILITY LAW PRIMER NOW AVAILABLE
Read about it here. Download it here or order it here. Always free.
NEW PRICING ON LAW CENTER COMMEMORATIVE BRICKS-- RESERVE YOURS TODAY
See details in right column.
FOUNDATION PROGRAMS, RESOURCES, PUBLICATIONS AT A GLANCE
Here they are, in one handy, newly updated info sheet.

ATTORNEY-SPEAKERS NEEDED TO DISCUSS CRIMINAL LAW IN PASSAIC AND BERGEN COUNTIES
Speakers willing to address schools, senior centers and community groups on all aspects of the law are needed, but especially so as above. You can sign up here. Thank you!
HELP THE STATE BAR FOUNDATION FULFILL ITS VITAL MISSION TO EDUCATE NEW JERSEY RESIDENTS OF ALL AGES ABOUT THE LAW.
***Please make a tax-deductible donation today. Thank you!***
DONATE NOW
Make a TAX DEDUCTIBLE DONATION to the New Jersey State Bar Foundation
Your generosity will help the Foundation fulfill its vital mission to educate the public about all aspects of the law that affect our daily lives--plus you'll get a head start on tax deductions for 2015. Read about just some of the good work of the Foundation and find a donation form here. Or engrave yourself in the history of the New Jersey Law Center by purchasing a commemorative brick on the portico of the New Jersey Law Center. See details below.

Join the COMMEMORATIVE BRICK CAMPAIGN and be engraved in the history of the New Jersey Law Center!
For yourself, your family or firm--honor a beloved law professor or pay tribute to a mentor with this thoughtful gesture. The bricks are precision engraved to last a lifetime.
*************

NEW PRICING!
4" X 8" $300
8" X 8" $1,000
Engraving: 3 lines per 4" X 8" brick
4 lines per 8" X 8" brick

18 characters per line (including spaces and punctuation)
To purchase now, go here.
Contact Cynthia Pellegrino