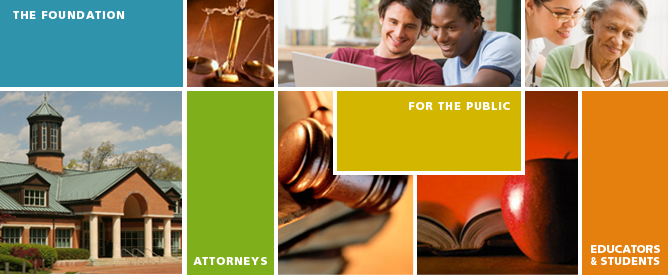 SERVING NEW JERSEY
The New Jersey State Bar Foundation (NJSBF) is your connection to understanding New Jersey law. We provide free events, publications and educational programs for students, educators and all New Jersey's citizens.
TODAY'S FEATURE
TOP NEWS:

NEW JERSEY STATE BAR FOUNDATION SOLICITING CANDIDATES FOR SECRETARY OF THE BOARD OF TRUSTEES; STATE BAR ASSOCIATION MEMBERS INVITED TO SUBMIT RESUMES FOR CONSIDERATION
Find details here. The current vacancy will be filled by October 2014.
FOUNDATION'S THIRD ANNUAL LEGAL COMMUNITY JURIED ART SHOW OPENING RECEPTION SEPTEMBER 4, 6 P.M. ; FREE ADMISSION AND REFRESHMENTS
Everyone is welcome to meet the artists and view paintings, sculpture, photography and other works by members of New Jersey's legal community on display in the Visitors Lounge of the New Jersey Law Center. Many works are for sale with partial proceeds going to benefit the Foundation's educational mission. The show runs through October 1. Sponsored by BCB Community Bank. For more information, call 732-937-7507.
REGISTER NOW FOR FALL 2014 TEASING AND BULLYING TRAININGS

The Foundation's popular, award-winning training has been updated to meet the growing needs of the education community in New Jersey. First come first served. Find registration and general information here.

REGISTER NOW FOR FALL 2014 TRAININGS IN CONFLICT RESOLUTION, PEER MEDIATION AND CHARACTER EDUCATION
Educators can find all open training dates as well as registration and general information here.
HIGH SCHOOL MOCK TRIAL COMPETITION RULES OF EVIDENCE HAVE BEEN REVISED
In order to better follow the New Jersey and Federal Rules of Evidence, as well as some of the National High School Mock Trial Championship rules, our Mock Trial Rules of Evidence have been revised beginning with the 2014-2015 season. For a sneak preview of the revised Rules of Procedure and Mock Trial Rules of Evidence, click here. The 2014-2015 High School Mock Trial Workbook, which includes the new case, rules and procedures, will be released in September. For more information, and to register for our free Mock Trial Workshop for coaches, click here.
LAW FAIR AND LAW ADVENTURE 2015 COMPETITION RULES BOOKLETS NOW AVAILABLE
For information about Law Fair for grades 3-6, click here. For Law Adventure for grades 7 and 8, click here. Teachers of grades 3-8 can register now for our free annual mock trial workshop on October 20 as well as register their students to attend our free mock trial programs in May, all at the New Jersey Law Center in New Brunswick.
SUMMER 2014 ISSUE OF THE FORUM NEWSLETTER
Find the latest issue of the New Jersey State Bar Foundation's newsletter here.
FOUNDATION PROGRAMS, RESOURCES, PUBLICATIONS AT A GLANCE
Here they are, in one handy info sheet.

ATTORNEY-SPEAKERS NEEDED TO DISCUSS CRIMINAL LAW IN PASSAIC AND BERGEN COUNTIES
Speakers willing to address schools, senior centers and community groups on all aspects of the law are needed, but especially so as above. You can sign up here. Thank you!
HELP THE STATE BAR FOUNDATION FULFILL ITS VITAL MISSION TO EDUCATE NEW JERSEY RESIDENTS OF ALL AGES ABOUT THE LAW.
***Please make a tax-deductible donation today. Thank you!***
DONATE NOW
Make a TAX DEDUCTIBLE DONATION to the New Jersey State Bar Foundation
Your generosity will help the Foundation fulfill its vital mission to educate the public about all aspects of the law that affect our daily lives--plus you'll get a head start on tax deductions for 2015. Read about just some of the good work of the Foundation and find a donation form here. Or engrave yourself in the history of the New Jersey Law Center by purchasing a commemorative brick. See details below.

Join the COMMEMORATIVE BRICK CAMPAIGN and be engraved in the history of the New Jersey Law Center!
For yourself, your family or firm--honor a beloved law professor or pay tribute to a mentor with a gesture that lasts a lifetime.
Choose from:
4" X 8" Driveway Brick
4" X 8" Premium Brick (portico)
8" X 8" Premium Brick (portico)
Engraving: 3 lines per brick
20 characters per line (including spaces)
For cost information and to purchase now, go here.
Contact Cynthia Pellegrino