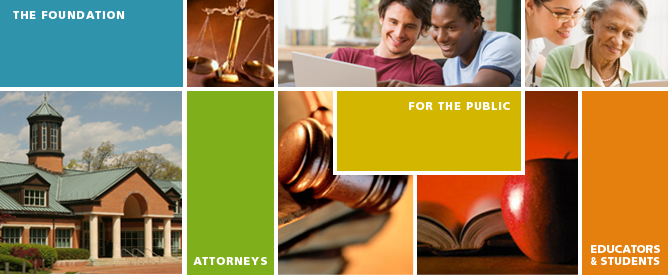 wSERVING NEW JERSEY
The New Jersey State Bar Foundation (NJSBF) is your connection to understanding New Jersey law. We provide free events, publications and educational programs for students, educators and all New Jersey's citizens.
TODAY'S FEATURE
TOP NEWS:
BOARDWALK EMPIRE AUTHOR GIFTS FOUNDATION WITH PROCEEDS FROM NEW BOOK
The New Jersey State Bar Foundation thanks Atlantic County Superior Court Judge Nelson Johnson and his publisher, Rutgers University Press. Read the details here.

NEW PRICING ON LAW CENTER COMMEMORATIVE BRICKS-- RESERVE YOURS TODAY

See details at right.
SAVE THE DATE: LAW-RELATED EDUCATION CONFERENCE MAY 1
Attention educators: registration forms available in February. Don't miss out. Contact fnathan@njsbf.org for a form.

SPRING 2015 TEASING AND BULLYING TRAINING SLOTS FILLED--WATCH FOR FUTURE DATES
The Foundation's popular, award-winning training has been updated to meet the growing needs of the education community in New Jersey. Find general information here.

REGISTER NOW FOR 2014-2015 TRAININGS IN CONFLICT RESOLUTION, PEER MEDIATION AND CHARACTER EDUCATION
Educators can find all open training dates as well as registration and general information here.
HIGH SCHOOL MOCK TRIAL WORKBOOK FOR 2014-2015 READY FOR DOWNLOADING
An overnight school trip turns into a nightmare for a high school senior who leaves the hotel after curfew without permission. Are the student and parent to blame or the teacher and school district? That's the question students will tackle as they take on the roles of lawyers, witnesses and jurors in the 2014-2015 Vincent J. Apruzzese High School Mock Trial Competition. For more information and to download the workbook, which contains the rules, procedures and the new case, click here.
In order to better follow the New Jersey and Federal Rules of Evidence, as well as some of the National High School Mock Trial Championship rules, our Mock Trial Rules of Evidence have been revised beginning with this season. See Parts V and VI of the workbook.

MEDAL OF HONOR
The Foundation's most prestigious honor is awarded annually to one or two individuals who have made exemplary contributions to the legal system in New Jersey or demonstrated longstanding excellence through accomplishments in the law. Read all about it here.
LAW FAIR AND LAW ADVENTURE 2015 COMPETITIONS AND FREE SPRING PROGRAMS

For information about the Law Fair Competition and Programs for grades 3-6, click here. For the Law Adventure Competition and Programs for grades 7 and 8, click here. Teachers of grades 3-8 can register their students now to attend our free mock trial programs in May at the New Jersey Law Center in New Brunswick.
UPDATE: The deadline to enter the competitions has been extended to February 3, 2015. Entries must be received by this date.

FALL-WINTER 2014 ISSUE OF THE FORUM NEWSLETTER
Find the latest issue of the New Jersey State Bar Foundation's newsletter here.
FOUNDATION PROGRAMS, RESOURCES, PUBLICATIONS AT A GLANCE
Here they are, in one handy info sheet.

ATTORNEY-SPEAKERS NEEDED TO DISCUSS CRIMINAL LAW IN PASSAIC AND BERGEN COUNTIES
Speakers willing to address schools, senior centers and community groups on all aspects of the law are needed, but especially so as above. You can sign up here. Thank you!
HELP THE STATE BAR FOUNDATION FULFILL ITS VITAL MISSION TO EDUCATE NEW JERSEY RESIDENTS OF ALL AGES ABOUT THE LAW.
***Please make a tax-deductible donation today. Thank you!***
DONATE NOW
Make a TAX DEDUCTIBLE DONATION to the New Jersey State Bar Foundation
Your generosity will help the Foundation fulfill its vital mission to educate the public about all aspects of the law that affect our daily lives--plus you'll get a head start on tax deductions for 2015. Read about just some of the good work of the Foundation and find a donation form here. Or engrave yourself in the history of the New Jersey Law Center by purchasing a commemorative brick on the portico of the New Jersey Law Center. See details below.

Join the COMMEMORATIVE BRICK CAMPAIGN and be engraved in the history of the New Jersey Law Center!
For yourself, your family or firm--honor a beloved law professor or pay tribute to a mentor with this thoughtful gesture. The bricks are precision engraved to last a lifetime.
*************

NEW PRICING!
4" X 8" $300
8" X 8" $1,000
Engraving: 3 lines per 4" X 8" brick
4 lines per 8" X 8" brick

18 characters per line (including spaces and punctuation)
To purchase now, go here.
Contact Cynthia Pellegrino