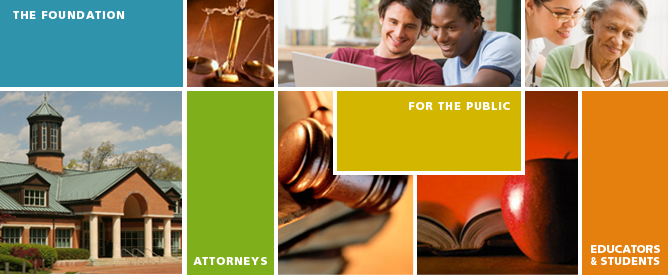 SERVING NEW JERSEY
The New Jersey State Bar Foundation (NJSBF) is your connection to understanding New Jersey law. We provide free events, publications and educational programs for students, educators and all New Jersey's citizens.
TODAY'S FEATURE
TOP NEWS:
THE HON. PETER G. VERNIERO (ret.), WAYNE J. POSITAN, ESQ. NAMED 2016 MEDAL OF HONOR RECIPIENTS; AWARDS DINNER RECEPTION SEPT. 12
Come join your friends and colleagues as they help us honor this year's recipients of the NJ State Bar Foundation's highest accolade, the Medal of Honor. Awards dinner reception Monday, Sept. 12, 6 p.m., The Palace at Somerset Park, Somerset, NJ. Cost: $175. To send a congratulatory greeting via the Program Journal to the honorees or for info on sponsorship opportunities, contact Cynthia Pellegrino at 732-937-7507 or cpellegrino@njsbf.org.
To learn more about this year's Medal of Honor recipients, go here.
BERGEN CATHOLIC HIGH SCHOOL WINS STATE TITLE IN FOUNDATION'S HIGH SCHOOL MOCK TRIAL COMPETITION
From an initial field of 222 high schools, Bergen Catholic High School, Bergen County, bested second-place finisher Oratory Preparatory School, Union County, for the right to represent New Jersey at the National High School Mock Trial Championship in Boise, Idaho, in May. Congratulations! The March 21 finals were presided over by New Jersey Supreme Court Chief Justice Stuart Rabner and the Hon. Marilyn C. Clark, Presiding Judge, Criminal Division, Passaic County. Find full details here.
COURTROOM ARTIST STUDENT COMPETITION WINNERS EARN PLAQUES AND FLOWERS AT MOCK TRIAL FINALS
Congratulations to Sarah Almeda (first place), Michaela Lozada (second place), Isabelle Wolf (third place), and Honorable Mentions Charlotte Steinman, Gianna Puglia and Carly Rowcatsky, the winners of the Foundation's first-ever such courtroom artist contest. Read about the winners here.
2016 LAW FAIR AND LAW ADVENTURE WINNERS ANNOUNCED
Find the winning schools here.

SENIOR CITIZENS' LAW DAY CONFERENCE MAY 3
Free! Expert elder care attorneys will discuss how to protect yourself and your loved ones with the latest updates on wills, trusts, long-term care directives, estate planning, avoiding scams and more. Read about it here and register here.

LAW AND DISABILITY ISSUES CONFERENCE MAY 10
Join the experts in a discussion of important issues and problems relating to housing, addiction and prisoner reentry in New Jersey. Registration for the free conference must be by postal mail or fax. Call 1-800-FREE LAW for a registration form or find a brochure with full information and a registration form here.

IT'S BACK! CALLING ALL LEGAL COMMUNITY ARTISTS: SUBMIT YOUR ART FOR CONSIDERATION IN THE STATE BAR FOUNDATION'S FIFTH ANNUAL JURIED ART SHOW
Attention attorneys, judges, law students, law professors and all other law-related professionals:You are invited to submit for consideration up to three original artworks in digital format along with the required registration form by submission deadline, Friday, July 15, 5 p.m. For a prospectus with full details, click here. For the registration form, click here. The show will run September 21-October 21. Artists' opening night reception is Wednesday, September 21, 6-8 p.m. Direct questions to Cynthia Pellegrino at cpellegrino@njsbf.org.
SUMMER 2016 TEASING AND BULLYING TRAININGS REGISTRATION NOW OPEN

The Foundation's popular, award-winning training has been updated to meet the growing needs of the education community in New Jersey. Find general and registration information here.
ALL WINTER-SPRING CONFLICT RESOLUTION, PEER MEDIATION AND CHARACTER EDUCATION TRAINING SLOTS FILLED; WATCH FOR ANNOUNCEMENT OF FUTURE DATES.

Find general information here.
HIGH SCHOOL MOCK TRIAL COMPETITION

Late at night almost a year after Super Storm Sandy, disaster again strikes a Jersey Shore family when four teenage intruders break into the Abrams' beach house, leaving one dead. Was it self-defense or did homeowner Jordan Abrams shoot Chris Pavano to death for other reasons?
Students in the State Bar Foundation's Vincent J. Apruzzese High School Mock Trial Competition will tackle this criminal case this season. To access the High School Mock Trial page, where you can download our 2015-2016 Mock Trial Workbook, click here. The workbook contains the Official Entry Form, case, rules, procedures and score sheets.
FOR GRADES 3-8: LAW FAIR AND LAW ADVENTURE MOCK TRIAL COMPETITIONS AND FREE SPRING PROGRAMS
For information about the Law Fair Competition and Programs for grades 3-6, click here. For the Law Adventure Competition and Programs for grades 7 and 8, click here. Register your students now to attend our free, interactive mock trial programs in May of 2016 at the New Jersey Law Center in New Brunswick. You do not have to enter the competitions in order to attend these programs.
SPRING 2016 ISSUE OF THE FORUM NEWSLETTER
Find the latest issue of the New Jersey State Bar Foundation's newsletter here.

A GUIDE FOR ATTORNEYS WHOSE DEVELOPMENTALLY DISABLED CLIENTS BECOME INVOLVED IN THE CRIMINAL JUSTICE SYSTEM
Provided by the Arc of NJ, here.

UPDATED EDITION OF DISABILITY LAW PRIMER NOW AVAILABLE
Read about it here. Download it here or order it here. Always free.
NEW PRICING ON LAW CENTER COMMEMORATIVE BRICKS-- RESERVE YOURS TODAY
See details in right column.
FOUNDATION PROGRAMS, RESOURCES, PUBLICATIONS AT A GLANCE
Here they are, in one handy, newly updated info sheet.

ATTORNEY-SPEAKERS NEEDED TO DISCUSS CRIMINAL LAW IN PASSAIC AND BERGEN COUNTIES
Speakers willing to address schools, senior centers and community groups on all aspects of the law are needed, but especially so as above. You can sign up here. Thank you!
HELP THE STATE BAR FOUNDATION FULFILL ITS VITAL MISSION TO EDUCATE NEW JERSEY RESIDENTS OF ALL AGES ABOUT THE LAW.
***Please make a tax-deductible donation today. Thank you!***
DONATE NOW
Make a TAX DEDUCTIBLE DONATION to the New Jersey State Bar Foundation
Your generosity will help the Foundation fulfill its vital mission to educate the public about all aspects of the law that affect our daily lives--plus you'll get a head start on tax deductions for this year. Read about just some of the good work of the Foundation and find a donation form here. Or engrave yourself in the history of the New Jersey Law Center by purchasing a commemorative brick on the portico of the New Jersey Law Center. See details below.

Join the COMMEMORATIVE BRICK CAMPAIGN and be engraved in the history of the New Jersey Law Center!

For yourself, your family or firm--honor a beloved law professor or pay tribute to a mentor with this thoughtful gesture. The bricks are precision engraved to last a lifetime.
*************

NEW PRICING!
4" X 8" $300
8" X 8" $1,000
Engraving: 3 lines per 4" X 8" brick
4 lines per 8" X 8" brick

18 characters per line (including spaces and punctuation)
To purchase now, go here.
Contact Cynthia Pellegrino