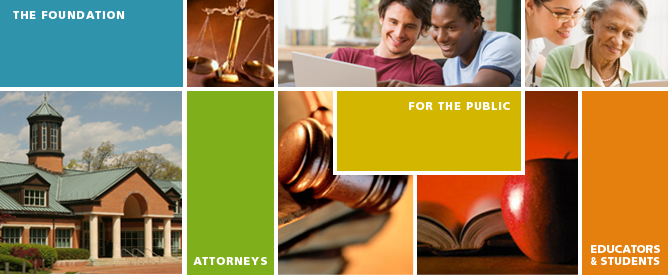 SERVING NEW JERSEY
The New Jersey State Bar Foundation (NJSBF) is your connection to understanding New Jersey law. We provide free events, publications and educational programs for students, educators and all New Jersey's citizens.
TODAY'S FEATURE
TOP NEWS:
Dedication of the Justice Marie Garibaldi Board Room Slated for April 27th
The NJSBF Board of Trustees will host a dedication and reception in honor of the naming of the Justice Marie L. Garibaldi Board Room. The event will take place Thursday, April 27th at 5:30 p.m. To register for the event, click here.
WEST MORRIS MENDHAM HIGH SCHOOL WINS STATE MOCK TRIAL CHAMPIONSHIP
The Morris County high school defeated Noor-Ul-Iman School of Middlesex County, who placed second in the competition. To read more, click here.
COURTROOM SKETCH ARTISTS RECEIVE RECOGNITION

Winners in the Foundation's High School Courtroom Sketch Artist Competition were recognized at the mock trial finals. For more, click here.
2016-2017 High School Mock Trial Competition County Champions
To view the list of county champions, click here.

HELPFUL RESOURCES FOR HOBOKEN TRAIN LEGAL QUESTIONS
The New Jersey State Bar Association knows many people may have legal questions about the recent train crash in Hoboken. For residents looking to find legal help, here are some useful links. The Hudson County Bar Association has a lawyer referral service here. The New Jersey State Bar Foundation has an informational guide about consumer law that includes information about hiring an attorney, read the excerpt here. And the American Bar Association also offers resources for finding an attorney. Learn more here. As always, the NJSBA encourages people to consult with an attorney to ensure their rights are being protected.
ATTN TEACHERS: Mark Your Calendar for the Courtroom Artist Competition Workshop on Thursday, October 19 at the New Jersey Law Center
To register, click here. Check back for more information.

HIGH SCHOOL MOCK TRIAL COMPETITION WORKBOOK NOW AVAILABLE

This year, we have a mock trial case that is about a mock trial competition!
After years of trying, Metropolitan High School's mock trial team finally defeated longtime rival Greenward Academy in the Metropolitan County finals, only to find their victory dampened in light of allegations of cheating. Did a student blogger from Greenward defame senior Shea Simmons, a star student-attorney from Metropolitan, causing Simmons to lose a much needed college scholarship?
Our 2016-2017 Mock Trial Workbook, which includes the new case, rules and procedures, is now available for download. For more information about the competition, click here.

DONATE TO NJSBF AT NO COST TO YOU WHEN YOU SHOP AMAZONSMILE.COM
Next time you shop on Amazon, be sure to go through AmazonSmile.com and designate the NJ State Bar Foundation to receive a percentage of your purchase of eligible items. Find all the details at https://smile.amazon.com/ch/22-6074475.
WINNERS OF THE FOUNDATION'S LAW FAIR AND LAW ADVENTURE COMPETITIONS HAVE BEEN SELECTED

To view the Law Fair winners' list, click here. For Law Adventure, click here.
LAW FAIR AND LAW ADVENTURE 2017 RULES BOOKLETS NOW AVAILABLE
The 2017 rules booklets for the Law Fair Competition (for grades 3-6) and for the Law Adventure Competition (grades 7 and 8) are now available. To download the Law Fair rules booklet, click here. To download the Law Adventure rules booklet, click here.

REGISTRATION OPEN FOR MAY PROGRAMS FOR GRADES 3-8

Registration is open for the free Law Fair and Law Adventure interactive spring programs where teachers of grades 3-8 and their students will hear original, winning mock trial cases presented by their peers and will serve as jurors. To register for a Law Fair program (grades 3-6), click here. To register for a Law Adventure program (grades 7 and 8), click here.
A GUIDE FOR ATTORNEYS WHOSE DEVELOPMENTALLY DISABLED CLIENTS BECOME INVOLVED IN THE CRIMINAL JUSTICE SYSTEM
Provided by the Arc of NJ, here.

UPDATED EDITION OF DISABILITY LAW PRIMER NOW AVAILABLE
Read about it here. Download it here or order it here. Always free.

HELP THE STATE BAR FOUNDATION FULFILL ITS VITAL MISSION TO EDUCATE NEW JERSEY RESIDENTS OF ALL AGES ABOUT THE LAW.
***Please make a tax-deductible donation today. Thank you!***
DONATE NOW
Make a TAX DEDUCTIBLE DONATION to the New Jersey State Bar Foundation
Join the NJSBF Mailing List
Help Us Make Better Informed Citizens.
Your generosity will help the Foundation fulfill its vital mission to educate the public about all aspects of the law that affect our daily lives--plus you'll get a head start on tax deductions for this year. Read about just some of the good work of the Foundation and find a donation form here. Or engrave yourself in the history of the New Jersey Law Center by purchasing a commemorative brick on the portico of the New Jersey Law Center. See details below.
Join the COMMEMORATIVE BRICK CAMPAIGN and be engraved in the history of the New Jersey Law Center!
For yourself, your family or firm--honor a beloved law professor or pay tribute to a mentor with this thoughtful gesture. The bricks are precision engraved to last a lifetime.
*************

NEW PRICING!
4" X 8" $300
8" X 8" $1,000
Engraving: 3 lines per 4" X 8" brick
4 lines per 8" X 8" brick

18 characters per line (including spaces and punctuation)
To purchase now, go here.
For more information:

Contact Cynthia Pellegrino