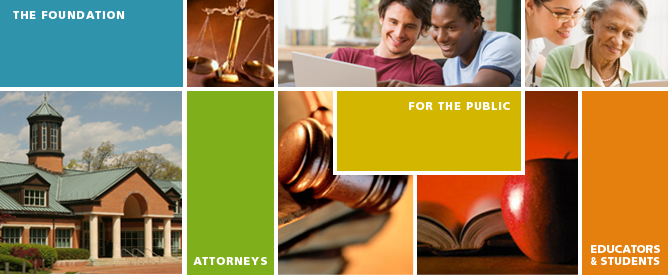 SERVING NEW JERSEY
The New Jersey State Bar Foundation (NJSBF) is your connection to understanding New Jersey law. We provide free events, publications and educational programs for students, educators and all New Jersey's citizens.
TODAY'S FEATURE
TOP NEWS:
HIGH SCHOOL MOCK TRIAL WORKBOOK NOW AVAILABLE
Late on a rainy evening in April, a car with two young occupants, Sid Sawyer and Cathy Sawyer, crashed into a tree on a desolate road. Cathy, Sid's sister, was ejected from the vehicle and died soon thereafter. But who was driving the car that tragic night--Cathy or Sid? This year's mock trial participants will tackle that question in State v. Sid Sawyer. For more information about the 2013-2014 Vincent J. Apruzzese High School Mock Trial Competition, click here.
NEW DATES ANNOUNCED FOR SUMMER 2014 TEASING AND BULLYING TRAININGS--REGISTRATION IS OPEN
New slots have opened up for the Foundation's popular, award-winning training, which has been updated to meet the growing needs of the education community in New Jersey. Limited spaces are available, first come first served. Find registration and general information here.

REGISTER NOW FOR NEW SUMMER 2014 TRAININGS IN CONFLICT RESOLUTION, PEER MEDIATION AND CHARACTER EDUCATION; AND REMAINING WINTER-SPRING 2014 DATES
Just announced: New summer dates. Educators can find all open training dates as well as registration and general information here.
FREE LANDLORD-TENANT RIGHTS SEMINAR MARCH 18
Read about it here; register here.

ATTENTION EDUCATORS: REGISTRATION IS OPEN FOR THE FREE MARCH 28 LAW-RELATED EDUCATION CONFERENCE
Sign on for a day of stimulating presentations and workshops designed to help you pique your students' interest in law and government. The day begins with a lively talk by Seton Hall law professor Paula A. Franzese, recently named one of the "best law teachers in the U.S." Space is limited. Please print the brochure and postal mail the registration form with a $20 refundable deposit check payable to New Jersey State Bar Foundation to: Florence Nathan, Director of Special Programs, Law-Related Education Conference, New Jersey State Bar Foundation, One Constitution Square, New Brunswick, NJ 08901-1520. No faxes or emails will be accepted.

UNDERSTANDING MEDICARE AND MEDICAID: FREE DAYTIME SEMINAR APRIL 2
Find details here and register here.
CONDOMINIUM AND COMMUNITY ASSOCIATION LAW: FREE SEMINAR APRIL 23
Get details here and register here.

REGISTRATION OPEN FOR FREE LAW FAIR/LAW ADVENTURE PROGRAMS
Registration is open for the Law Fair and Law Adventure interactive spring programs where teachers of grades 3-8 and their students will hear original, winning mock trial cases presented by their peers and will serve as jurors. To register for a Law Fair program, click here. To register for a Law Adventure program, click here.
CALENDAR OF UPCOMING EVENTS
Admission to these programs is free but registration is required. Find the full list of seminars and other events here. PLEASE NOTE: Wills and Estate Planning has been changed to June 26, 7-9 p.m.

FALL-WINTER 2014 ISSUE OF THE FORUM NEWSLETTER
Find the latest issue of the New Jersey State Bar Foundation's newsletter here.

FOUNDATION PROGRAMS, RESOURCES, PUBLICATIONS AT A GLANCE
Here they are, in one handy info sheet.

ATTORNEY-SPEAKERS NEEDED TO DISCUSS CRIMINAL LAW IN PASSAIC AND BERGEN COUNTIES
Speakers willing to address schools, senior centers and community groups on all aspects of the law are needed, but especially so as above. You can sign up here. Thank you!
HELP THE STATE BAR FOUNDATION FULFILL ITS VITAL MISSION TO EDUCATE NEW JERSEY RESIDENTS OF ALL AGES ABOUT THE LAW.
***Please make a tax-deductible donation today. Thank you!***
DONATE NOW
Make a TAX DEDUCTIBLE DONATION to the New Jersey State Bar Foundation
Your generosity will help the Foundation fulfill its vital mission to educate the public about all aspects of the law that affect our daily lives--plus you'll get a head start on tax deductions for 2013. Read about just some of the good work of the Foundation and find a donation form here. Or engrave yourself in the history of the New Jersey Law Center by purchasing a commemorative brick. See details below.

Join the COMMEMORATIVE BRICK CAMPAIGN and be engraved in the history of the New Jersey Law Center!
For yourself, your family or firm--honor a beloved law professor or pay tribute to a mentor with a gesture that lasts a lifetime.
Choose from:
4" X 8" Driveway Brick
4" X 8" Premium Brick (portico)
8" X 8" Premium Brick (portico)
Engraving: 3 lines per brick
20 characters per line (including spaces)
For cost information and to purchase now, go here.
Contact Cynthia Pellegrino