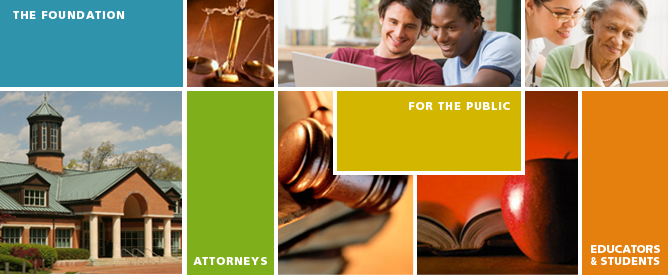 SERVING NEW JERSEY
The New Jersey State Bar Foundation (NJSBF) is your connection to understanding New Jersey law. We provide free events, publications and educational programs for students, educators and all New Jersey's citizens.
TODAY'S FEATURE
TOP NEWS:
THE HONORABLE PETER G. VERNIERO (Ret.), WAYNE J. POSITAN, ESQ. NAMED 2016 MEDAL OF HONOR RECIPIENTS; AWARDS DINNER RECEPTION SEPT. 12
Come join your friends and colleagues as they help us honor this year's recipients of the NJ State Bar Foundation's highest accolade, the Medal of Honor. Awards dinner reception Monday, Sept. 12, 6 p.m., The Palace at Somerset Park, Somerset, NJ. To send a congratulatory greeting via the Program Journal to the honorees or for info on sponsorship opportunities, contact Cynthia Pellegrino at 732-937-7507 or cpellegrino@njsbf.org.
To learn more about this year's Medal of Honor recipients, go here.
ATT TEACHERS: GET READY FOR COURTROOM ARTIST STUDENT COMPETITION FOR 2016-2017 SCHOOL YEAR
High school teachers, learn how to encourage your school's art students to draw their mock trial team in action when the new term begins. Register now for an October 19 teachers' workshop explaining the rules and offering tips for successful sketches, and find the official competition entry form here. You can read about this year's winners here.
IT'S BACK! CALLING ALL LEGAL COMMUNITY ARTISTS: SUBMIT YOUR ART FOR CONSIDERATION IN THE STATE BAR FOUNDATION'S FIFTH ANNUAL JURIED ART SHOW
Attention attorneys, judges, law students, law professors and all other law-related professionals:You are invited to submit for consideration up to three original artworks in digital format along with the required registration form by submission deadline, Friday, July 15, 5 p.m. For a prospectus with full details, click here. For the registration form, click here. The show will run September 21-October 21.

Artists' opening night reception is Wednesday, September 21, 6-8 p.m., immediately after the Art-Law Symposium. Participants in the symposium are invited to the reception for hors d'oeuvres, beer, wine and desserts. Direct questions to Cynthia Pellegrino at cpellegrino@njsbf.org.
ALL WINTER-SPRING CONFLICT RESOLUTION, PEER MEDIATION AND CHARACTER EDUCATION TRAINING SLOTS FILLED; WATCH FOR ANNOUNCEMENT OF FUTURE DATES.

Find general information here.
SPRING 2016 ISSUE OF THE FORUM NEWSLETTER
Find the latest issue of the New Jersey State Bar Foundation's newsletter here.

A GUIDE FOR ATTORNEYS WHOSE DEVELOPMENTALLY DISABLED CLIENTS BECOME INVOLVED IN THE CRIMINAL JUSTICE SYSTEM
Provided by the Arc of NJ, here.

UPDATED EDITION OF DISABILITY LAW PRIMER NOW AVAILABLE
Read about it here. Download it here or order it here. Always free.
NEW PRICING ON LAW CENTER COMMEMORATIVE BRICKS-- RESERVE YOURS TODAY
See details in right column.
FOUNDATION PROGRAMS, RESOURCES, PUBLICATIONS AT A GLANCE
Here they are, in one handy, newly updated info sheet.

ATTORNEY-SPEAKERS NEEDED TO DISCUSS CRIMINAL LAW IN PASSAIC AND BERGEN COUNTIES
Speakers willing to address schools, senior centers and community groups on all aspects of the law are needed, but especially so as above. You can sign up here. Thank you!
HELP THE STATE BAR FOUNDATION FULFILL ITS VITAL MISSION TO EDUCATE NEW JERSEY RESIDENTS OF ALL AGES ABOUT THE LAW.
***Please make a tax-deductible donation today. Thank you!***
DONATE NOW
Make a TAX DEDUCTIBLE DONATION to the New Jersey State Bar Foundation
Help Us Make Better Informed Citizens.
Your generosity will help the Foundation fulfill its vital mission to educate the public about all aspects of the law that affect our daily lives--plus you'll get a head start on tax deductions for this year. Read about just some of the good work of the Foundation and find a donation form here. Or engrave yourself in the history of the New Jersey Law Center by purchasing a commemorative brick on the portico of the New Jersey Law Center. See details below.
Join the
COMMEMORATIVE BRICK CAMPAIGN
and be
engraved in the history of the New Jersey Law Center!

For yourself, your family or firm--honor a beloved law professor or pay tribute to a mentor with this thoughtful gesture. The bricks are precision engraved to last a lifetime.
*************

NEW PRICING!
4" X 8" $300
8" X 8" $1,000
Engraving: 3 lines per 4" X 8" brick
4 lines per 8" X 8" brick

18 characters per line (including spaces and punctuation)
To purchase now, go here.
Contact Cynthia Pellegrino